Duties and Functions
There is hereby created a local prequalification, bids and awards committee in every province, city, and municipality, which shall be primarily responsible for the conduct of prequalification of contractors, bidding, evaluation of bids, and the recommendation of awards concerning local infrastructure projects. The municipal mayor shall act as the chairman with the following as members:
The chairman of the appropriations committee of the sanggunian concerned;
A representative of the minority party in the sanggunian concerned, if any, or if there be none, one (1) chosen by said sanggunian from among its members;
The local treasurer;
Read more...

Two (2) representatives of non-governmental organizations that are represented in the local development council concerned, to be chosen by the organizations themselves; and

Any practicing certified public accountant from the private sector, to be designated by the local chapter of the Philippine Institute of Certified Public Accountants, if any.

Representatives of the Commission on Audit shall observe the proceedings of such committee and shall certify that the rules and procedures for prequalification, bids and awards have been complied with.

The agenda and other information relevant to the meetings of such committee shall be deliberated upon by the committee at least one (1) week before the holding of such meetings.

All meetings of the committee shall be held in the provincial capitol or the city or municipal hall. The minutes of such meetings of the committee and any decision made therein shall be duly recorded, posted at a prominent place in the provincial capitol or the city or municipal hall, and delivered by the most expedient means to elective local officials concerned.

Read less...
---
Organizational Chart of the Bids and Awards Committee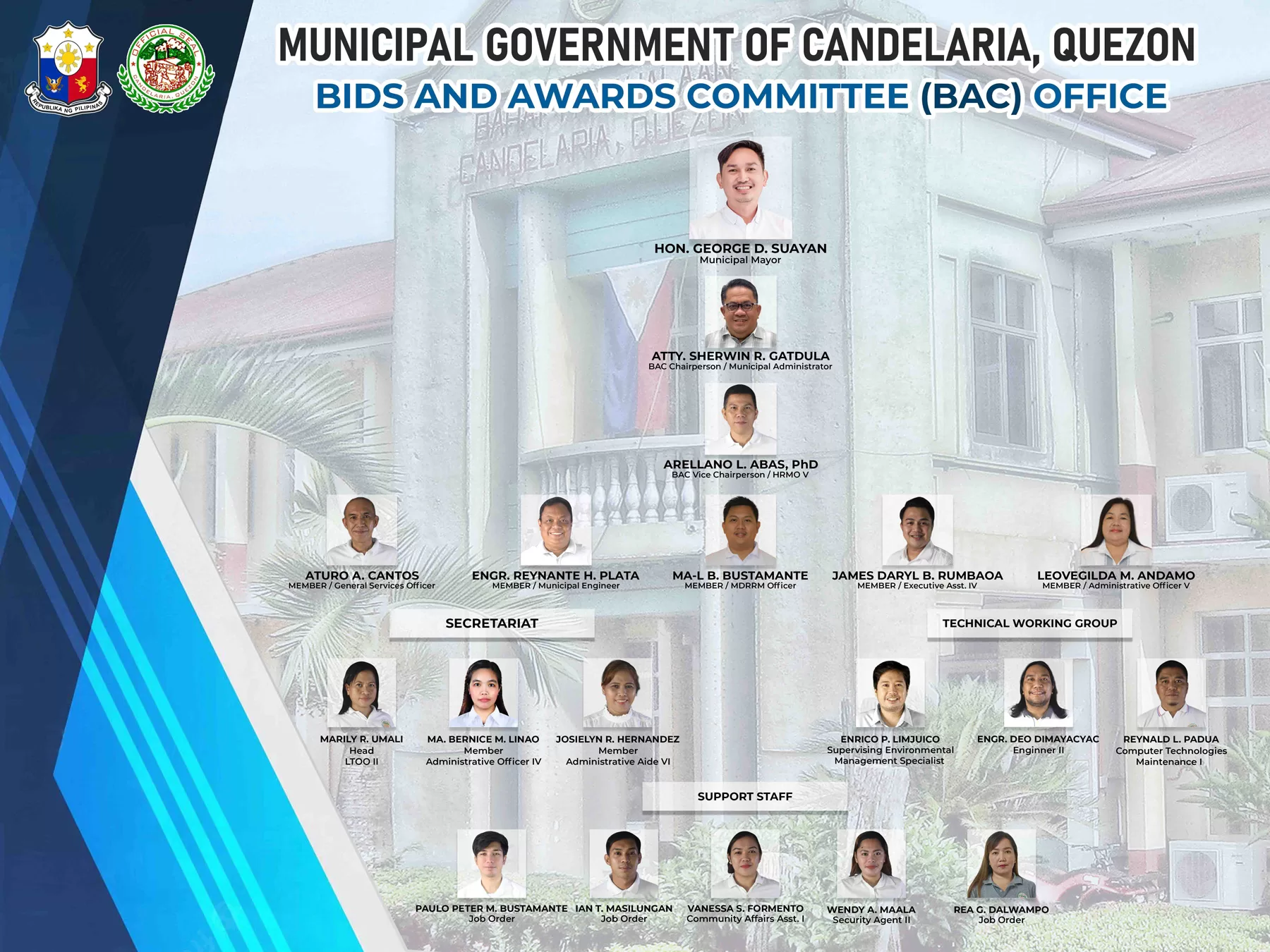 ---
Services
---
Performance Pledges
---
 BIDS AND AWARDS COMMITTEE OFFICE
2ND FLOOR, ANNEX BUILDING, MUNICIPAL HALL
CANDELARIA, QUEZON
(042) 585-9890