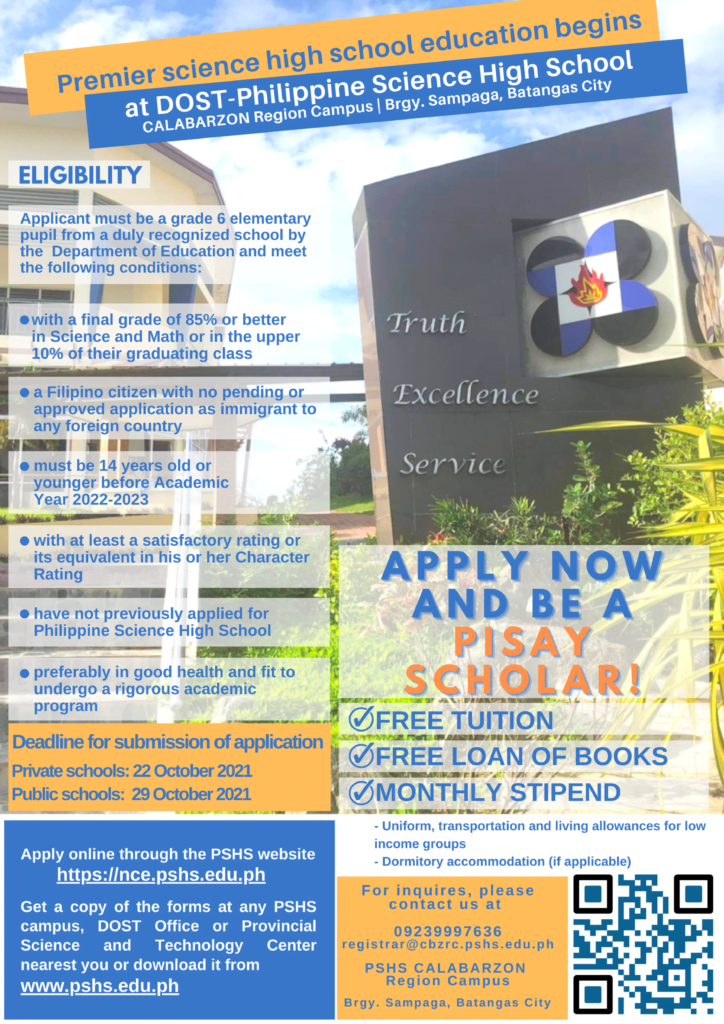 Greetings of Excellence in Basic Science Education!
The Philippine Science High School CALABARZON Region Campus is now recruiting the best and the brightest Grade 6 students to be part of our next batch of Grade 7 Scholars for Academic Year 2022-2023 in our campus at Barangay Sampaga, Batangas City.
The scholarship benefits include free tuition, free loan of books, monthly stipend, and dormitory privileges.
Download Application Forms:
---
---
The applicants are encouraged to apply online. Below are the application requirements for online application:
Scanned/digitized copy of most recent 1×1 ID picture
Scanned/digitized copy of Proof of Payment (Non-refundable processing fee for private school students; Php 300, based on the applicant's Grade 5 school / Free for public school students and indigent students from private schools)
Scanned/digitized copy of certified true copy of report card (SY 2020-2021) issued by the class adviser/principal
If the final grades in Science or Math are below 85%, scanned/digitized copy of certification or proof that the child belongs to the upper 10% of the batch
Scanned/digitized copy of certification from the private school if the pupil-applicant is on full scholarship
Steps for Online Application:
Sign up at https://nce.pshs.edu.ph/.
Accomplish the Application Form. If the applicant needs more time to complete the requirements, the application may be saved as 'draft'. Once submitted, the application is considered final and will no longer editable.
Monitor the status. On the website, click Application Result. The applicant will receive an email confirmation whether the application has been approved, rejected, or needs pending documents. If you do not receive an email notification that your application has been approved or disapproved, you may contact the PSHS-CBZRC Region Campus at 09239997636 or email [email protected]
The walk-in applicants may also submit the complete application requirements to the Registrar Unit.
The deadline for filing of application for Private schools is on October 22, 2021 and for Public schools is on October 29, 2021.
For further inquiries, you may contact the Registrar at 09239997636 [email protected]